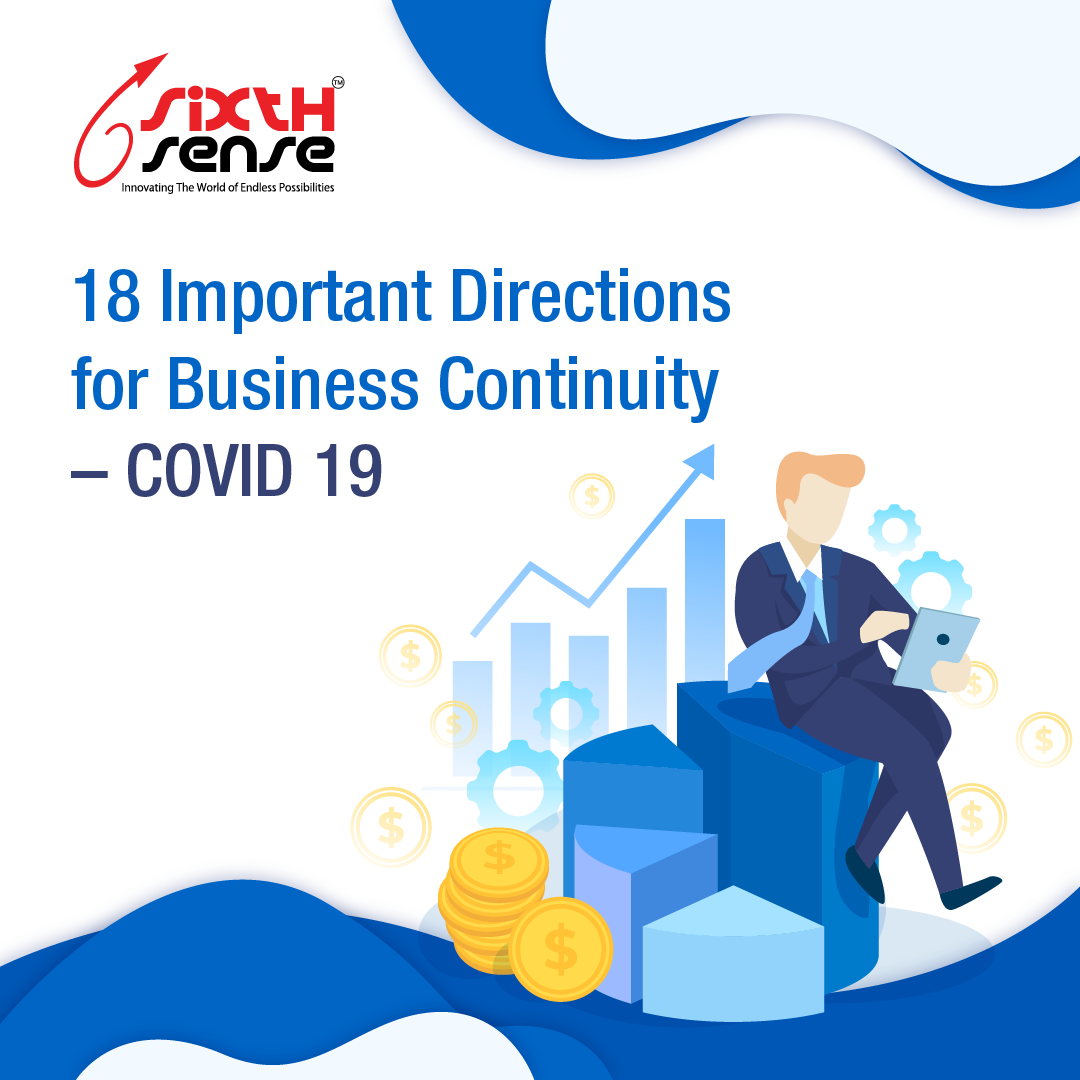 1) Immediate Priority
What is in our hand
To exactly follow the instructions of our local authorities and state and central government advisories.
What is not in our hand
How long this will last is out of our control. Further, It is outside our domain to bring back the world to the normalcy today, and it will be a synchronized effort of the entire ecosystem which will lead to a solution to this pandemic.
What to do? How to do? What's next? The Solution
* Our immediate priority is to focus on ourselves as an individual who is also as an owner, promoter, employer and partner.
* We need to Stay Positive, Enjoy family time, be happy that you have got the time to spend with your relatives, seniors, well-wishers, friends.
* Strengthen our core competencies and build a bigger bandwidth to achieve enormous success and happiness in the coming decades.
* Offer prayers to God & pray for everybody's well being.
* As of now, synergies are inversely distributed it will take everything to bring things on track once again as it was before the pandemic.
* Contribution matters and please do contribute with every possible way. Cohesive & Collective efforts for saving the value chain will only lead to a stable economic situation at a faster pace.
2) Drastic Changes in Business Economics & Dynamics.
* Business always derived from consumption, and these patterns will change now permanently, the future behavior of entire consumption is not known and will be understood at a later stage and hence it is out of our control as of now.
* Right now it is imperative to convert fixed costs to variable costs wherever feasible and build a business model which is more variable rather than capital intensive and fixed in nature.
* Choose between the option of in-house or to outsource.
* Take advantage of chain synergies by utilizing the facilities with other businesses rather than creating one's own that will help in reducing higher fixed costs at one end and provide greater flexibilities to scale and sustain in challenging times ahead.
* Examples are outsourcing of labor through contractors, job work, supply chain, logistics, booking keeping, and taxation & compliance, etc.
3) Introduce Technology massively if not done so far
* Automate and design systems for entire operations and recording of transactions through integrated software systems with the help of Technology will help you to sustain the business.
* Relevant examples of technologies utilization - for instance, look at the effectiveness of automated features of drones (crewless aerial vehicles) being utilized for monitoring activities and delivering medicines at COVID -19 affected areas of the country.
* We all know how online banking, digital transactions, adoption of Paytm, online platforms for deliveries and various aggregators had served as an alternative to physical aspects during these challenging times.
* Think of how you can maximize the utilization of Technology for business process automation, promotion, sustainability, and scalability. 
* Marketing and Distribution can be seriously looked upon to be reinvented and revitalized with the help of digital social technologies.
4) Creative and out of the box thinking
* Old is Gold very real, but Experience is sometimes the hurdle in itself when it comes to out of the box thinking and beginning of a creative mindset.
* Unfollow the traditional path of doing the business, imagine that what could have transformed your business/work so that it could have been running during these times also and thus your cash inflow would be continued and challenges would have been far lesser. 
* Be creative and innovative at least from now onwards, bring in "JUST WOW" & "Working even Now " such similar feelings in the mindset. 
* Time is available to utilize to deep dive
* This will create the strongest loyalty, which will reduce your cost of acquisition and provide higher Life Time Value of customers.
5) Strategic Planning & Diversifying the business
* Make a strategic plan for FY 2020-21.
* Get the information from other business counterparts and agencies related to your business.
* Diversifying is the key in the coming times.
* You might have a dream and need of diversifications of your business but couldn't have thought of it executing due to lack of time, plan & execute.
* Diversification gives auto hedge and De-risks the business.
6) Wisely utilize support provided by the apex bank, i.e. RBI and Finance Ministry
* RBI & FM had issued several measures to be of help to every business to maintain its survival.
* Cautiously take calls on their utilization since nothing can be waived and if you can pay the liabilities on due dates then why to pay additional interest.
* Don't avoid delay in payment of payroll taxes it is sacred to government
* Government is working on the second relief package to revive the battered economy.
* The announcement is expected to be made towards the end of lockdown so that the industry can be put on the track and the economy can be reinvigorated as soon as possible.
* Govt may address the stress in various sectors including MSME, hospitality, civil aviation, agriculture, and allied sectors by working for a stimulus package.
* The comprehensive package once prepared will be vetted by the Union Cabinet headed by Prime Minister Narendra Modi and the announcement would be made by Finance Minister Nirmala Sitharaman.
7) Addressing Challenges for existing business
* Customer consumption pattern will definitely go through a change.
* There will not be many people comfortable towards going to close sitting arrangement of movie theatre any more neither enjoying foods every alternate day at costly restaurant, tourism & travel industry will be impacted severely.
* Entire hospitality and entertainment industry will go through huge challenges before its recovery.
* Approach everybody be it employees, stakeholders, lenders, customers and Govt, Ministries and authorities before its too late.
* Suggest packages / seek guidance and advice/recommendations to authorities etc.
8) Maintain Financial Discipline, Curtail down Expansion and cautiously enter into New Projects if ROI permits
* This is not the most opportune time to enter into expansion mode and stop focusing on the new projects where ROI is weak at the initial phase of the project.
* Restrain yourself from substantial investments into capital intensive expansions. The payback period might take a little longer than estimated.
* Generally there is a tendency amongst investors/entrepreneurs to overvalue the assets and take project loans. In the majority of the cases, project loans are 100% funding based and equity contribution is zero.
* As mentioned above with literally zero equity contribution funding is availed. With a little adverse economic scenario, the organization finds it difficult even to serve interest forget about the repayment commitments.
* One should abstain from overvaluing the assets and taking loans since easy money goes quickly.
* There is a change in the mindset which is required and which will be beneficial to the owners/promoters/entrepreneurs themselves.
* Discipline with respect to financial covenants stipulated by the banks and financial institutions must be taken seriously and equity infusion must be immediately brought in when there is an erosion of net worth due to losses or to match benchmark debt-equity ratios for expansion etc.
* If funds infusion for funding losses gets delayed, it slowly and gradually makes it difficult for the business to come to profits again.
* In such a scenario, it becomes more critical that promoters or owners spend most of the time with the top management of the company and derive the solutions with the help of a financial expert.
9)  Managing Relationships across at all levels
* Every relation is based on economic benefits, and it is difficult to sustain the relationship without satisfying financial commitments.
* Commitments and Assurances are done to each and every network member be it employees, stakeholders, lenders, vendors, customers, and statutory authorities must be only after deep self due diligence with transparency and total trust.
* Ensure that all the commitments and assurances done by you are entirely met within timelines.
* This will provide positive vibes to yourself & your organization which will certainly build a long-lasting goodwill & brand value.
10) Employees Upskilling, Training & managing Work from Home. improving processes and setting up of standards and benchmarks
* Spend time with the team through video conferencing for innovative ideas, research, and development, product or service improvements, designing SOP's.
* Keep your employees engaged and motivated by training them through Vido Conferencing and other tools. 
* Focus on how to improve employee productivity, retain talent and remove inefficiency from the system.
* Work from home had already been getting a go on; however, monitoring is challenging.
* Introduce incentive mechanism for working from home and adopt a "carrot and sticks" approach.
* Implement work-from-home agreement with your employees and have it signed; this will match the expectations and outputs.
11) Manage Cash Flow – Cash is always a King
* Cash Outflow is in our hands to a certain extent.
* Cash Inflow is probably not in our hands for many of the businesses.
* Until & unless your area of work comes under emergency services there may not be the continued inflow of Cash.
* Remember each penny saved is a penny earned. This is the time to count on cash surplus.
12) Negotiate for fixed expenses such as salaries, wages, rent, etc.
* It is dependent on the discussion and convincing skills, but the outcomes are not totally under your control.
* Follow the instructions of authorities and try to negotiate with everyone and explain to them that once the momentum builds up, everything will be normal soon. It is a matter of time to stay positive.
* However simultaneously you need to ensure that their urgent needs of EMIs, medical emergencies, education fees, and basic needs are met up timely. Employees are assets and have to be dealt with respect and with a futuristic view.
13) Revisit Budgeted Expenditures
* Extraordinary Contingency expenditure is out of our hands.
* This situation had taught us why our mother and wife always had contingency funds reserved to manage household requirements.
* They rescued us during an emergency. The same goes well with the businesses too. Revise the budgeted expenditure in line with the declining trends of the revenues.
* Probably more stringent and stricter control to be exercised this time.
* Use reserved Cash to manage contingencies.
14) Alternative Income from investments already made
* Returns on market-linked instruments are out of our hands and depended on various macro and micro factors, including sentiments.
* Focus on fresh ideas through which the Income can be generated from existing investments with tweaking the same little bit, like making swift design changes in the machinery to build something which will be relevant for doing business as per current demand requirements.
* Life brings adversities to innovate, please do it.
15)  Fresh Borrowings
* There will be a need for funds and liquidity in terms of cash to meet the payment obligations if the lockdown extends or normalcy takes a bit more time.
* Accordingly, we must focus on how to raise fresh and cheap collateral-free / minimal collateral borrowings.
* Many institutions have already announced the extension of charges on exiting collaterals and funding of 10% additional Cash Credit facilities.
* Working Capital calculation are relaxed, and it is dependent on the lenders – so best present your case for elongated working capital cycles.
16) Reduce your borrowings and manage within your limits.
* Business scenario is out of your hand, but the protection of your goodwill is in your hand.
* If you have already borrowed in excess of your repayment capacities it is not suggested that you borrow more.
* Focus on how you will arrange funds for meeting liabilities on due dates.
* Request and arrange alternative funding from friends, relatives, extended credit period from suppliers and instant payment from customers.
* Reduce the costs, increase the profitability & do a proper review of existing unit economics and how you will improve the same.
* Thinking of it, Can some of the fixed assets in terms of non-core assets i.e. land, building other properties be liquidated and borrowings can be reduced.
* Come at the discussion table if there is joint ownership among brothers/sisters / joint family businesses as to how to reduce these fixed interest-bearing liabilities and retire the debt.
* Take the help of financial experts and lenders to restructure the debt/loans (restructuring of loans will impact CIBIL ratings).
17) Once again, please don't burn Cash.
* Goodwill once lost is tough to regain.
* Analyze whether your business was already suffering excessive working capital crunch and lockdown is resulting in complete collapse.
* Please resort to restructuring to avoid business going bankrupt.
* Discuss with family friends and take the help of experts in the field. It's your dream it's your business please do take care to live the dream.
18) Social Responsibility and Obligations.
* We have to understand that there are many social obligations and responsibilities which each one of us has towards society.
* Please donate and help others.
* What we give is what we get back. Provide help, support, and service to mankind and deprived in the best possible ways, and God will bless you immensely.
Author
FCA Pavan Kumar Purohit
PavanPurohit& Associates
Chartered Accountants
Disclaimer - The views expressed are personal views of the author who is into Business Continuity Consultancy and Financial Expert.