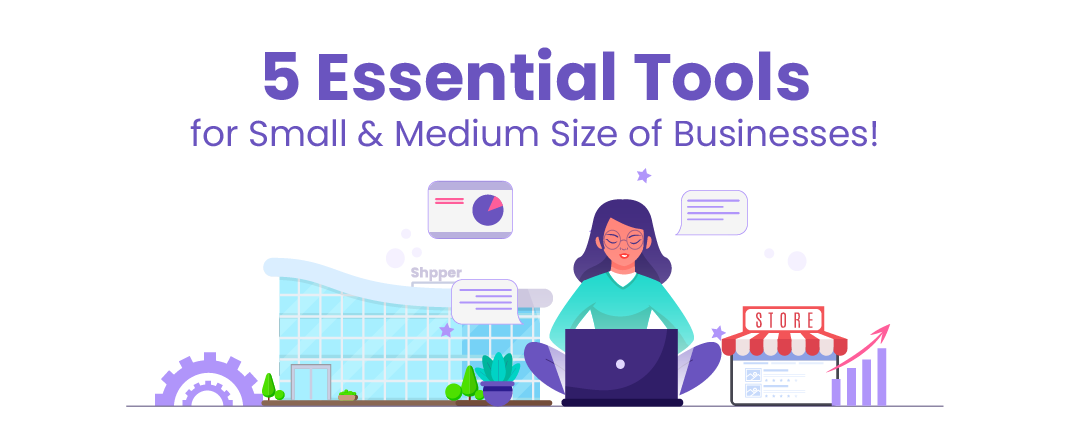 Starting a business from scratch with limited funds and resources? – Good! You're one of those who have the leadership Skill to look forward, take the risk, start their own, create jobs for others, and challenge the odds which are against you!
In your journey to be a successful brand among small and medium-sized industries, we'll like to suggest a few tools & systems, which can not only increase your efficiency but enhance the overall profit as well.
1) Customer Relationship Management Tool
If you're in client-centric business or have to manage multiple entries for a client or business owner or a concerned person from an organization- you must then look for a Customer Management Relationship tool like CRM sense. This tool is a brilliant example of an Artificial intelligence-powered Business-intelligence CRM tool, to ease your business-generation efforts and activities in client-centric business cycles.
With a tool like this, you can not only manage your meetings with the concerned person, follow-ups, discussion-status, client behavior forecasting but can also analyze all the activities and projected output.
Such a tool can also manage other elements of business relationships and the entire sales cycle as well.
With a useful CRM tool like CRM Sense, you can boost your business profit by easing sales & marketing activities with the same limited sources, time, funds and space!
2) Human Resource Management
Are you planning to increase your 'human resource' or getting troubles in managing them in your business- you must then go for a professional Human Resource Managemen Tool like HRM sense.
With HRM sense, you can not only manage all human resources but can keep them happy, satisfied and retain for a long time, by organizing their all details, professionally at a single point. This tool frees employees from worries to talk to the HR department every time for every tiny correction, issue or related topics.
When you implement a human resource management tool, you can manage all departments' employees, staff members, attendance, leaves, joining, last working day & post formalities, particular remark, salaries, and much important aspect of a firm's human resource
Satisfied and happy employees always deliver better output. They work for optimum productivity and help you save huge money which otherwise could not save, if not implemented an efficient HR management tool like HRM sense!
Go for an affordable Human Resource Managemen Tool today and see the difference in your employee management capabilities.
3) Restaurant Management System
This tool is specifically for those who have started their small & medium-sized restaurant business and want to take it to the multi-outlets or the next level.
An efficient Restaurant Management System or a Restaurant Management tool like Restro Sense will help you manage your restaurant, from the day you purchase inventory, till the final operations in food cooking and its delivery. Restro Sense also includes waste management, billing from POS (& order generation as well). You can have low inventory alert, auto tax calculation, multiple outlet management, and can run offers & discounts, along with menu creation & its planning, ingredient management, and many more.
Apart from this, a robust Restaurant Management System like Restro Sense will not only automate all the above tasks but will also optimize your work-efficiency. You will have increased profit, leaving you with more time on the clock to focus on the other business aspects of small & medium size of business.
4) Business Management System
This tool can do wonders for small & medium sizes of enterprises by helping them with inventory management, purchase management, stock in & out, transferring stock, tax management and other aspects of SMEs about their business activities.
With a Business Management System or Business Management tool, like Business Sense, you can magnify your work efficiency with increased productivity.
Manage a small business seamlessly is tough when you have limited sources, funds, and place. But with Business Sense or any other efficient Business Management System, you can do the same task as a pro because you don't have to do manual entries, data insertion, monitoring or involve multiple resources for the job which can be automated.
Automation of your daily business activities is a long term ROI, and you should not ignore it anyway!
5) Enterprise Management System
With hard work of day and night, when you grow your small or media size of the enterprise to a bigger one, you come up with new sets of challenges to manage an organization.
There are many aspects of management in an enterprise like Human Resource, Clients, Departments specific operations like; Executive department, Administration, Security, HR, Transport, and others. You can't look then all to manage individually, or manually, or with the department-specific tool!
You must get to be an overall enterprise management tool that can solve all the above problems without burning your pocket.
ERP sense is one of the Enterprise management tools, which is highly capable of doing and managing an enterprise efficiently.
With ERP sense, you'll be able to see, monitor and manage your entire organization from a single window on the web, anytime, and anywhere. You can figure out the problem which is affecting your operations and fix them before its too late!
Sixth Sense IT Solutions has expertise in creating the best possible business solutions for small & medium enterprises. Their software-solutions, like HRM sense, CRM sense, ERP Sense, Restro Sense, and others, are being used by many businesses to manage their operations and increase profit. These tools can help you win the competition with the same limited budget and time!
Small or medium size of business helps many others to get to land a job and run their life, but such organizations also need resources, tools, systems, consultants, and software to run, expand, and grow. All the tools & systems discussed above if implements in your business- will undoubtedly be a significant factor of growth!