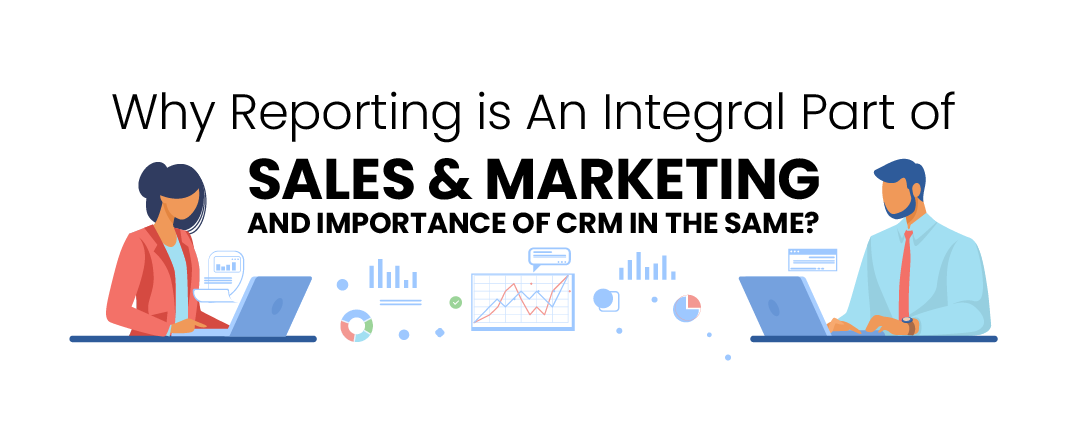 Reporting in any business helps that particular business to grow by allowing keen monitoring on its every process, tasks, and resources. Thus, it ensures a seamless outcome. Similarly, the importance of reports can not be ignored in sales & marketing activities because these reports help an organization to monitor sales & marketing performance, altogether. Whether it is planning, or the effectiveness of sales & marketing practices, client relationship, or the entire sales cycle- reporting plays a vital at every step!
A sales reporting system helps companies and businesses to automate & improve their business efficiency and uplifts business cycle.

In this blog, we will talk about; how reporting is an integral part of SALES & MARKETING, and what is the importance of CRM in the same? Let's figure out!

1) Expenses
Sales-report plays a keen role in the management of an organizational expense and put a check on them to avoid money drainage.

How?

Well, you can download the expense report, analyze it, see the expenses area, find whether the expenses are legitimate, or not!

Also, when you have a detailed report, you can cut short the unnecessary expenses, find the loopholes, and fix them to avoid hard-earned money-burning!

2) Plan Next Move
When you have a detailed report on your business's sales & marketing activities, you can better decide on the next move. 
Like, what should be the next step & business practices you should incorporate for growth, how to channelize resources to make your next move successful, and others! Such future steps can only be taken if you have full & detailed business reports!

3) Marketing
Marketing is the process of promoting your offerings to the targeted audience. But, if you are not aware of your target audience- how you are going to sell/offer your services/products?
Well, you can use reports to find to whom you should target and when & how! Detailed business reports help you analyze which customer group is currently using your services the most and the least. And, also why! 
Remember, when you are clear on the grounds of "WHY"- you can better decide "WHAT" to offer and get them delivered the exact product/ services followed by a competent & targeted MARKETING!

4) Analysis
If you do analysis, you better understand the cause and effect of anything. Whether it is an atmospheric phenomenon, space, science, education, law, order, business, and our daily living activities- analysis plays a role to understand it completely!
Once you analyze your sales & marketing report, you can better understand the current business scenario and work accordingly to refine your SOPs. It has observed that refined SOPs work superb smooth, and produce maximum output with the same resources, and in the same period!
Plus, with the analysis, you can also do "Operational Performance Analysis" of your entire team, business associated, partners, employees, and of course of all operations as well. 
Performance analysis plays a crucial role in business growth. It helps you see which resources are working at their peak, and which need to optimize. With 'performance analysis' you can also calculate that- if we put some additional support to a particular task- whether the operational efficiency will increase or remain the same! 
Such business forecasting can only be done if you have reports to analyze! Also, with analysis, you can find whether the sales team did their necessary groud visit or not. How many meetings have been done by now? What are the productivity of the team and individual employees? 
Also, whether the team is reporting on time or not? What is the status of attendance, leaves, and other aspects of sales activities that can be analyzed with reports!
CRM and its role in SALES & MARKETING REPORT
Till now, it is quite clear that reporting plays a key in the business' success- because it helps you analyze and examine almost every aspect of sales & marketing activities. And, when you have a CRM- getting SALES & MARKETING reports is super easy!
How? Let's find out!
If you use CRM and you use it for sales activities- you not only ensure centralized data processing of the crucial details for the entire team, but you also provide quick and accurate report generation. With sales-reports; you can better analyze them, do performance checks, and make activities much viable and productive.
To help you with reporting and reports, you can try AI-powered cloud-based CRM Sense which is the next-gen, robust coded, smart and simple CRM tool. Apart from this, it also helps you generate a bunch of super-informative reports to dig-out useful details for the unmatched business growth!
So, this is how you can use CRM to ease sales-report analysis for organizational growth.
Please let us know your feedback on the content.