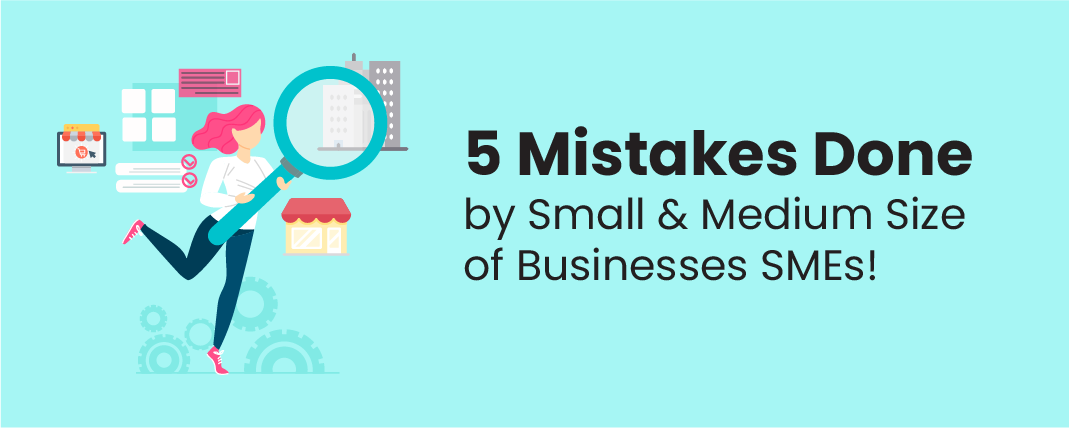 Mistakes are part of life. You can neither eliminate them nor try not to commit them in the future. Because when you try, you might fail sometime or make mistakes, but if you learn from those mistakes, you grow.
Mistakes happened, are happening and will happen in the future as well. They are part of learning, and this is a beautiful part of mistakes.
Di you ever try to figure out why mistakes happened? Did you analyze them or wrote the reason behind those? Because- when you examine the errors, you'll find some root cause, which, if worked upon, can be avoided next time.
Here we're going to talk about 5 mistakes done by SMEs or can say Small and Media Size of businesses, which if understood carefully, will save you by committing them.
1) Uncontrolled Flow of the Capital!
You can't imagine to start or run your business if you don't have adequate funds, because, every operation, whether it is sales, marketing, management, promotion or any sort of business activity- it needs funds to execute. But how to spend funds or how to manage your expenses- is the most challenging task. And, you should monitor it carefully as it can be a factor of business failures!
It is a widespread mistake done by small & medium-sized of enterprises- that they want to do all sorts of business activities but don't have sufficient budget to keep running, for at least six months to 1 year because this period is like a buffer time between your initial expenses and earning out of the same business!
You can avoid this by keeping a close eye on expenses.
Automate your sales & marketing cycles with a customer management tool or a system like CRM sense. You can avoid time and resource management in manually managing of such tasks, and use is somewhere else productively. Go for a digital promotion more than physical banners or posters. Leverage social media as much as possible. Hire digital marketing or consulting agency for business-specific custom solutions. Train your staff. Use HR management tools like HRM sense, Business Management software- Business Sense, to avoid mistakes and unnecessary time, resource and money wastage.
If you can control your expenses; you will see huge savings at the end of the day, which otherwise keep flowing for no reason!
2) The mistake of NOT BEING organized!
Here is another common mistake is made by many small & medium-sized enterprises that they do not organize themselves before things start appearing messy!
Get a license if needed, register yourself, hire a consulting firm who can help you on all dimensions of business activities, try to automate your system with HR management like HRM Sense, Client Relationship Management with CRM sense, Restro Sense (for Restaurant Management) or with other tools that suits you best.
Always have the employee & client-friendly policies to channelize human resource in your firm better, have an office or affordable work-space either at home or some commercial place; where you can work undisturbed, strategize activities, plan and execute them and do other tiny but do every and essential aspect of a business.
Getting yourself organized (for your business), will not only increase your productivity but will also help you utilize your valuable time which otherwise you were wasting or have wasted.
3) Set realistic Goals!
Many small and medium enterprises do not set a realistic goal, causing frustration and future failures later. You need to ensure you have a practical and achievable goal, set after thorough market research and competitors.
Don't think that you only run the market; else you won't make an actual strategy. Keep all the aspects in mind like funds, margins, time, product/ services, your offerings, available resources, and others, before deciding and chasing your dream goal!
If you can calculate these factors carefully, you will not fail or make mistakes that others did.
4) Choosing a Location, Initially
Initially, you can look for those locations which are affordable than the rest of the marketing places. The decision behind a site can undoubtedly affect your fixed expenses or might burn your pocket!
Don't go for a prime location if you can't! Try to minimize the fixed expenses by selecting an area from where you can run your marketing activities affordably and avoid high valued rent!
5) Have enough resources
Don't overload your resources as they do have their working capacity. The expectation is right but only after keeping all facts on the ground or after a reality check.
Time and effort calculation is very important before proceeding on any task. If you don't have the adequate resources, you must first increase them and then start working on a project- else you'll leave with many incomplete tasks.
Also, you can automate your processes like sales & marketing cycle with available tools like CRM sense, Human Resource with HRM sense, and your entire restaurant with Restro Sense, and can avoid mistakes done by others.
Sixth Sense IT Solutions is specialized in the catering needs of small & medium enterprises and helping them avoid such mistakes which actually can affect your business profit!