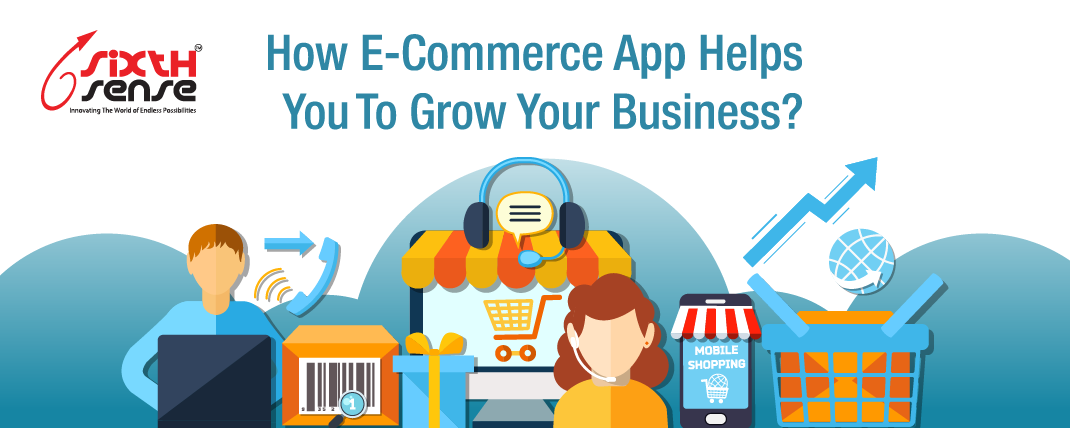 Introduction:
E-commerce apps are becoming very popular these days. Though desktops are constantly used for online retail marketing, the use of mobile apps has increased greatly. Apps for an e-commerce business is changing the way a business achieves its growth. It establishes a very close contact between the business and the customer. E-commerce apps are making business units to function efficiently.
The seamless way in which mobile apps can be used and the ability of these apps to create a stronger relationship between the customer and the business has increased users to switch from surfing websites to making use of these branded e-commerce apps. Businesses who have their own branded e-commerce apps are getting more traffic than those without. They help you to build a strong clientele and increase your revenue. This makes it very essential for your business to have your e-commerce app which helps you grow your business.
Perks of having your e-commerce app!
● They help you earn potential and loyal clients.
When your business owns an e-commerce app, those people who are really into your products and services will install your app. By this, you will get long-term customers who are ready to make use of your products and services. Apps provide a very good user experience. They load faster than websites and hence increase business traffic. E-commerce apps create brand loyalty which helps you earn trusted customers.
Many e-commerce sites have been introducing a lot of loyalty programs which makes sure your customers stay connected with you. They offer discounts and coupons on various purchases. You get a discount of some rupees if you purchase for above a particular amount or you get an offer to win a free product if you buy a particular number of items. These are some interesting ways to keep your customers engaged to your site and this can be implemented efficiently with an e-commerce app.
● They are very handy
Apps are very handy; it doesn't give your customers the trouble to go somewhere to avail of your products and services. The customers can get in contact with your business anytime and anywhere provided they just have their mobile phones. Any app you decide to build for your e-commerce business, whether a web app or a mobile app, make sure it is mobile-friendly and provides a good user experience to your customers. This makes it easy for them to reach out to you and your business at any time of the day. The businesses which have their mobile apps have been more successful at gaining potential customers since e-commerce sales through mobile apps are very popular these days.
● They provide personalized content
While running any kind of business, it is important to show that you are aware of the interests of your customers. Customers love it when they get recommendations that are personalized just for them. This will help customers to get attracted to your services and ensure that your business has solutions to all their needs. Having your own branded e-commerce app will enable you to provide customized content to your clients. It enables you to track the behavior of your customers based on what they view in your app and how often they visit what kind of categories in your e-commerce app. By this, you can identify what your customer likes and dislikes. Personalization has gone to a whole new level these days. By getting to know your customer's browsing history and previous experiences, you can recommend the products that they just need and are most likely to purchase.
● Offline and online access
With any business having its own branded e-commerce app, it is easier for the customers to access their services both online and offline. Offline access which a few e-commerce apps allow, enables the customers to do a lot of basic functionality in the app. They can view products, compare prices, add them to cart, and other such similar things. This is an added advantage that allows more users to access your services without needing to use the internet all the time.
● Apps work faster than websites
There have been several studies that show that customers tend to leave a site and visit other sites if your website takes a long time to load. This may very often be the problem if your sites are not getting much traffic. Slow loading frustrates a customer and causes them to leave. This problem is sorted using mobile apps. Apps can be way faster than websites. Some apps can load basic content even without an internet connection. This adds to the advantages of using your own branded e-commerce apps.
● Gain more orders
Owning an e-commerce app for your business will increase your average sales. People generally tend to view a lot of your items when you have them in your app rather than on your website. The average time spent on apps is much more compared to the others. Apps provide a very good user experience which increases conversion rates and brings in a lot of monetary benefits for your business.
● Several important features
Apps can be designed as per the developer's needs. This provides businesses with an opportunity to grab the attention of their customers with various features.
Apps can be programmed to send constant updates to your customers via e-mails and messages. New products and services can be intimated to the customers which urges them to visit your site. With push notification features, you can constantly remind your clients of your products and services and give them quick reminders and there is no chance they miss your updates. Apps provide an enhanced user experience that makes the app very easy to use. Easy navigation and user-friendly apps are what every customer is attracted to. Availability of options like QR codes for obtaining discounts, scanners for scanning pictures, barcode scanners to make payments, and the availability of on-screen fingerprint scanners for securing the app are a few of the many features which bring you growth in your business.
Conclusion:
Your own branded e-commerce app plays an important role in establishing your brand far and wide. It increases your business productivity by providing interactive and engaging communications with your customers. Your e-commerce app can avoid unnecessary competition for your business and allows you to grow your business following your own rules and strategies. An e-commerce app is of course a boon to your online business. Remember that apps also play an important role to rank high in Search Engine Results Page by using Search Engine Optimization Techniques which thereby flourish your business!