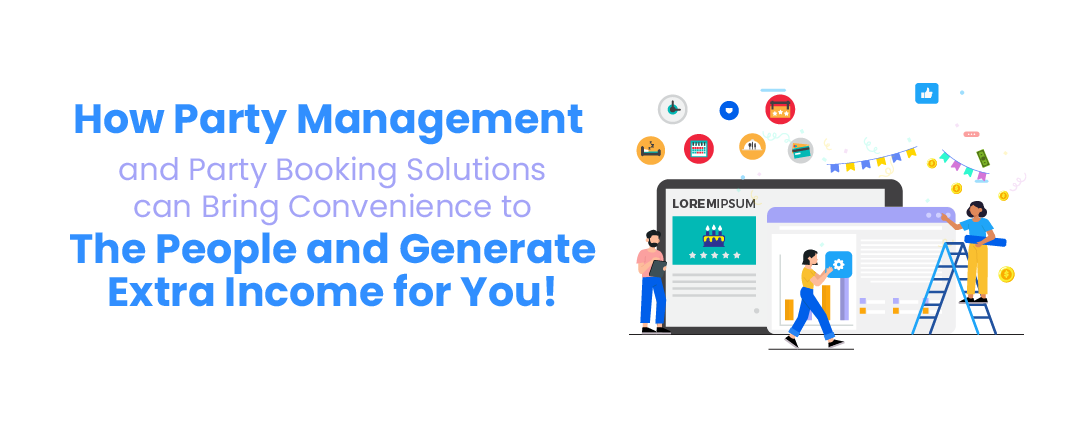 How Party Management and Party Booking Solutions can bring convenience to the people and generate extra income for the organizer?
Nowadays, when people are busy in their life and tight schedule, they have almost no time to gather and celebrate.
That's why people usually try to find reasons to gather and spend some quality time together!
Here comes the importance of the party!
And, when we talk about the party, we can not ignore the party organizer, venue, menu, packager, etc. because these all elements make a party memorable!
Like we said, in the modern age, as people are busy executing their daily and necessary activities, they miss gathering which they used to do before! Hence the Tea Party, Coffee Party, Cocktail Party, Dance Party, and other parties are becoming part of our culture.
In this blog, we are going to talk about; How Party Management and Party Booking Solutions can bring convenience to the people and generate extra income for organizer?- as this is the need for time!
1) It brings convenience to life:
Party management and party booking solution bring comfort to our life.
Why and how?- because you need not move here and there to find, book, decide the menu of the party.
With smart and modern Party Management Solutions like 'YOUR PARTY', you can find a restaurant near your location that organizes parties, see the list, find their guest serving capacity, menu, timing, and other parameters!
Once you have all these details on your mobile screen or laptop, as a customer you can better calculate your expenses, time, guest, and execute the party! Thus, giving yourself the next level of convenience!
We should know that the Party Management and Party Venue Booking; both are two different terms.
In Party Management, you hire an event manager which manages your entire party, while in Party Venue Booking, you book a place to conduct a party like the way you want. And, then, some professionals do both!
So, party booking website like 'Your Party' brings a common platform for both- restaurants, which can organize a party, and people- who want to celebrate their good time! This way, it adds comfort for both!
2) Party Management and Booking Solutions Brings Parallel Income!
When a restaurant utilizes its free time and space to let the party organized, it creates extra income. And, such income brings the opportunity to grow your restaurant business in many ways!
Apart from this, extra income helps you manage your business balance sheet when there is a tight market condition, and keeps it positive!
3) Party Management and Party Booking Solutions Let You Meet New People!
Yes, when you let your restaurant run for a party, you open doors for all the party guests to see and know your restaurant.
This step helps you do free branding and promotion to all party guests.
And, when as a restaurant, you serve your best services, you generate leads from the guest for more future parties! Is not this like a snowball effect? Feels like yes!
Apart from this, as a customer, when you organize a party, you came to know about the staff, their services, food quality, and other parameters of a restaurant- which helps you decide whether you can conduct your next party here or not.
4) Party Management and Party Booking Pushes you Create Something New
As a food & beverage court, when you allow your space for the party, you push yourself to create something new than before. This step helps you give a brand new impression on your customers.
When customers have such a next level of experience from your restaurant, they talk about you. Give good reviews. Do post about it.
Thus, doing a free word of mouth publicity and branding. Which later brings more business for you.
Apart from this, creativity keeps you active and energetic!
There are many restaurants and food courts, which let their premises use for the party, but they do not take care of their ambience. Or, either keep it the same!
Such dullness or inactive behavior brings fewer clients and hence reviews accordingly!
That's why creativity should be an integral part, to attract more customers and present your restaurant/ food & beverage outlet like a professional party organizer!
5) Generate Employment
With Party Booking Solutions like 'Your Party', when you rent up your extra restaurant space for the party and let customers book it - you create new jobs for many others! How?
Because people love to add an extra element to their celebration!
Like, customers would be happy to go with a singer, musician, magician, stand-up comedian to come and be part of their party and make it more enjoyable!
Of course, customers will not feel completely okay to pay extra for this!
Thus, you not only create extra earning but create many jobs as well.
More importantly, when you arrange or offer to add such elements to a party, you become the most desirable place for people to organize their next party! So, keep this element with you as well!
Here we conclude the blog.
We hope you like it, and if there is any feedback for us, please let us know.