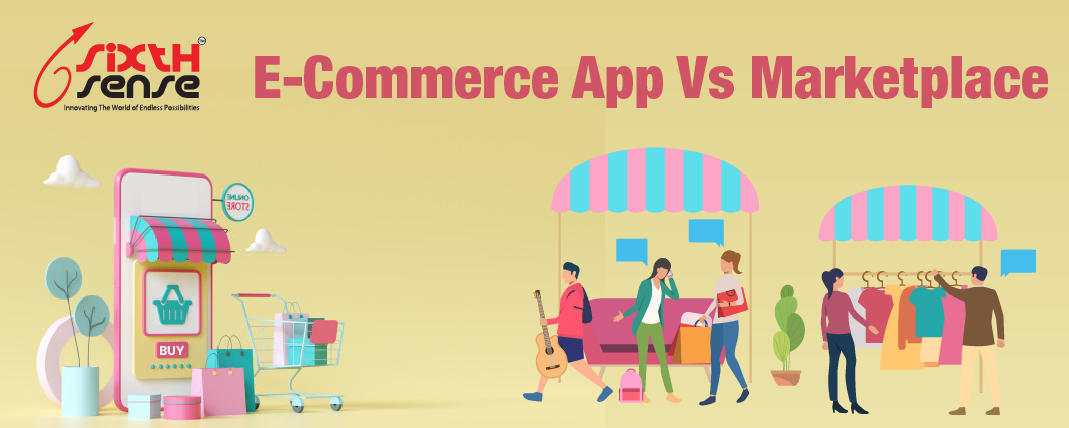 INTRODUCTION:
It is always better to design your e-commerce app for your business than selling your products at a market place like Amazon or Flipkart. Designing your own branded app has a lot of advantages that can bring in more traffic to your store. Having an own e-commerce app establishes your brand loyalty. Rather than competing with a lot of other brands while selling your products in a market place, it is a better option to sell your products on your e-commerce app that has been designed as per your wish!
Some reasons why market places may not be a good option for your business!
e-commerce sites may be very useful for the consumers but not necessarily for the brand managers. Let's see why!
● No value for brands
If you are trying to establish your brand, then selling your products through market places is not the right option for you. There may be several similar products that come in different brands but are put together in market places. In such cases, the customers go to pick one product which is based mainly on one parameter which is cost. In such cases, you will have to compromise on the price of your products to improve your sales.
● Very low-profit margins
Almost all market places focus on making large sales. They aim to sell more products to customers and increase their sales rate. They often offer a lot of huge discounts and this forces the seller to reduce the prices of their products to achieve more sales. This may allow you to sell more products but your profit margins decrease eventually.
● You earn only buyers but not customers
It is most important to remember certain things when you decide to sell your products in a market place rather than using your app. You would have started your business with a dream of gaining more customers, making huge profits, and growing rapidly in your business to establish a name for yourself. But when you choose to sell your items in a market place, you are deciding to compromise on a lot of things. Customers who visit market places may choose to buy your item randomly. They might have made a random choice. The next time around, they can buy the same product from a different brand. In such cases, do you think you earn customers? No! You share your customers between the other sellers at the market place as well. The customers are not very keen on buying what you sell specifically. They fail to recognize your brand and your uniqueness.
● Competition is high
Market places having thousands of sellers trying to sell their products. Most of the sellers sell products that are similar to others. How do you expect to compete in such a competitive platform? This will lead you to compromise on a lot of your business strategies and profit levels.
● Disadvantages of private labels:
The marketplaces launching private labels are taking a huge toll on other sellers in the e-commerce platforms. Since most marketplaces like Amazon and Flipkart are trust brands globally, customers tend to purchase their products automatically. To showcase your brand, you need to be ready to spend on ads that may make you visible in the competitive marketplace.
● Market places are seller-focused
People who buy on marketplaces often look out only for the quality and design of products. When there are several choices put before them, they pick randomly which may be based on their cost. Market places are not seller-focused. Only if the customers are keen on buying from a particular brand, it will benefit the seller. 
● Market places are uncertain
Deciding to retail your products in a marketplace has risks of its own. The strategies and algorithms of marketplaces change very often and are highly uncertain. One cannot tell for sure that your products will surely be featured in a way the customers would take notice. Sometimes, marketplaces use various factors depending on which flagship products will be displayed on the top of the list. This reduces the chances of your products from being noticed.
How are your e-commerce apps better?
When you use your e-commerce app, you don't have to face the above-mentioned scenarios. 
● Cuts down competitors
e-commerce apps help cut down all the competition that you have in a marketplace. This enables you to progress at your speed and gain potential customers. The customers who visit your app may turn into your long-term customers. You need not share the customer base with other sellers which are most often the case while selling in a market place.
● Brand loyalty
Your e-commerce app helps you establish your brand and makes you look more professional in the business sector. You can provide users with the best possible products and earn their trust.
● Good relationships with customers
This is one important advantage of having an app instead of selling in a market place. Apps help you know your customer better. It can keep track of all the purchase information of a customer and provide them with personalized suggestions. Moreover, you can have direct contact with your customer which enables you to solve their queries and improve their experience at your store. You can, therefore, improve your products and sales bases on valid customer feedback. This is not possible while selling in a market place.
● Search Engine Optimization
While selling products in a market place, it is not possible to optimize your products and services to be search engine friendly. You don't have access to control how the pages in the market place are designed. But we all know how important it is in today's business world to rank high in the Search Engine Results Page. And so, Search Engine Optimization is very important. Apps play a role in SEO. By designing your app for your e-commerce site, you can use several Search Engine Optimization techniques to improve your business traffic.
Conclusion:
It is clear enough from the above facts that apps are better than market places. 
They help you know your customers better and establish a name for yourself in the business world. Small e-commerce sites are not always benefitted when selling through market places. They have to face various challenges and compromise on their profits to get recognized. Adding to this, marketplaces cannot assure your business, a stable growth. With private labeled products being sold on such market places, many sellers are not very happy with how it grabs customer attention which in turn results in a loss for small sellers. Don't compromise on your profits anymore. For long-term business, establishing your e-commerce app is the best choice!