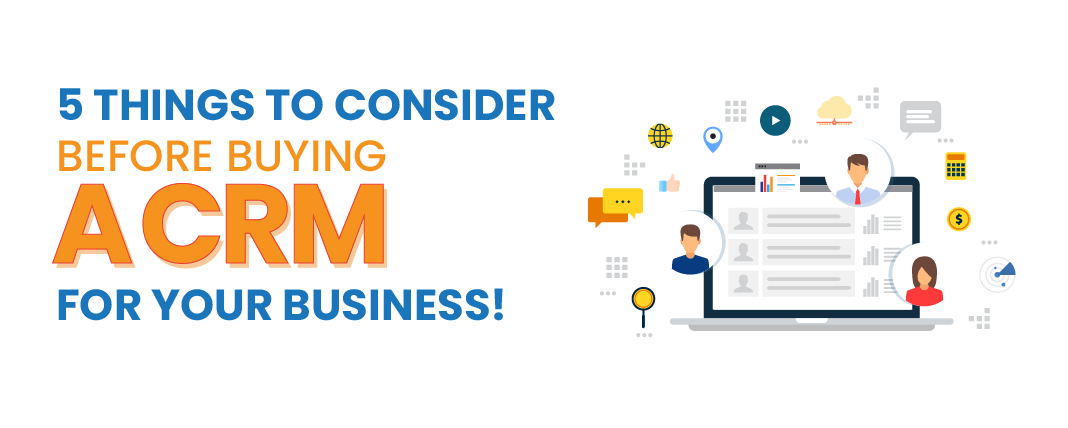 Customer is a king! If customers are happy, you grow your business. And if not, you are in big trouble!
Because of this reason, there are many tools in the market to manage customers. And, for the same reason, we have customer relationship management software which helps micro, small, medium enterprise, and even the big firms to manage their current and prospected clients to ensure maximum possible growth!
If you are planning to take your customer base to the next level, this blog is for you!
In this blog, we will find 5 essential reasons you must look before you think to buy a CRM for your firm!
1) Determine the Purpose of CRM
First, identify the purpose for which you need CRM.
If you need CRM only for the lead tracking or managing clients' database, or just for the meeting schedule, you can better go for free apps offered by creative CRM Software solutions provider like Sixth Sense IT Solutions. Their apps are free and super user-friendly! Apart from this, such apps help your team connected as well!
That will save your cost and fulfill the purpose of having a CRM software.
Similarly, identify other purposes and needs of having a CRM as well in your organization. Like, do you want to manage your sales & marketing team, send reminder emails/messages to your clients, generate reports, analyze the sales & marketing activities, analyze performance, etc. There are many CRM available, but not all of them are for you!
Apart from this, you can go with a custom CRM as well. Such Client Relationship Management software may have all those features you need and may fit your budget as well.
So, first, note down the purpose of having a CRM, define your goals, and then go for it.
In case of confusion, take the help of the CRM Consulting Firms like Sixth Sense IT Solutions to help you find the best possible CRM solution!
2) Cost of Purchasing And Running
Some CRM tools come with one-time payment while others come with the pay-per-user-per-month mode of operation!
Apart from this, there is a cost associated with training and maintenance as well.
Decide which payment mode suits you the most and check whether the training to your team is free or paid!
Do CRM providers also provide maintenance and support to your team if needed? What are the charges for this? Does CRM Software solution provider have some prerecorded videos, audios or content which you can use in case of any troubleshooting or emergency?
So, prepare a check a checklist for this as well, and check before you decide to go with one!
3) Features you need!
This factor is among the most critical factors which can decide whether a CRM is for you or not!
The market is having a bunch of CRM tools with different- different features, and each software fulfills a specific purpose. So, please make a list of features you need, find the scope of it, and try to go for that CRM software.
As shared before, you can go with the custom CRM software as well because it will help you have only those features which you need and eliminating the others! Thus, minimizing your expenses as well!
4) Mobility
Do you want a CRM which can run on mobile devices as well for your field sales force which takes care of your leads, meeting, prospects, and business on the go?
If yes, then, you must go for a CRM which can run either on mobile devices or have a dedicated mobile App. You can try the Sixth Sense CRM Sense tool as well- as it runs on all types of mobile devices seamlessly, and keeps you connected with the clients no matter where you are!
Also, mobile CRM or mobile compatible CRM tools help your sales & marketing team to manage their task while they are on the field and handling clients.
With mobile responsive CRM software, you can run things even from a remote location and keep growing your business as well!
5) Support
Well, you can have any CRM software for your business- but until and unless you have a brilliant support system from CRM Solution provider, you can not imagine a seamless client relationship management.
Before purchasing any CRM, always enquire about the support system.
If the CRM solution provider has a brilliant support system, then go for it, else look for the other options!
Please remember, every software is good, but what matters- is the support!
So, look for the smart and brilliant support-system for CRM solutions, else in the long duration your CRM software will cost you high!
We hope you like the blog.
Please let us know your feedback about this content, and if you have any suggestions for you, then do share it with us. We will appreciate that.