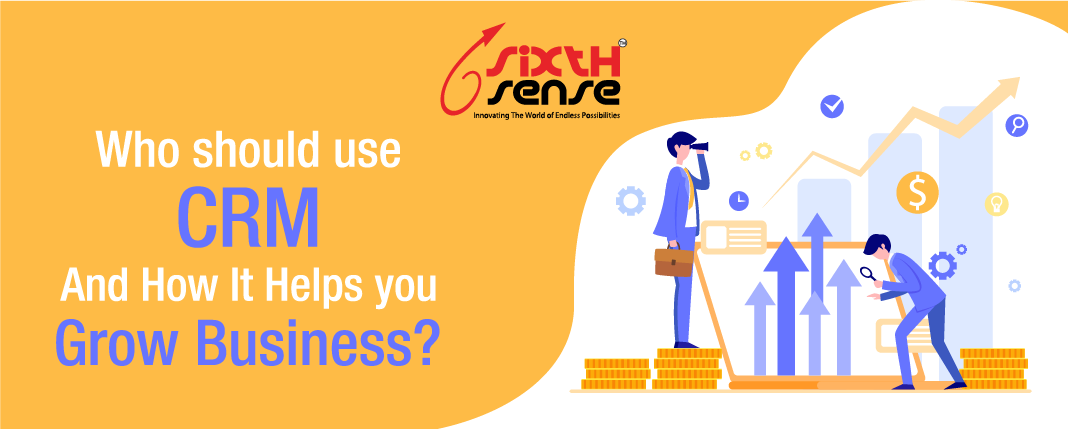 CRM Stands for Customer Relationship Management, and the core purpose of CRM is to help a business build and manage its customer relationships to the next level, for unmatched growth!
There are many CRMs available in the market as organizations have understood the importance of having a CRM. Hence, there is a boom in CRM solutions now!
A CRM helps you channelize your organizational process, define SOPs, build & improve customer relationship & support, increase your sales & profitability, and guides you see the projected future-growth of your firm.
It also helps you do a detailed analysis and see the reports of your firm as well!
A CRM can be a software, tool, solution, or a smart business model to help customers sync with an organization! It manages your data, calls, quotes, details, communication, and thus frees you from the regular day-to-day tasks related to the client-centric business.
In this blog, we are going to talk about who should use CRM and how it can help you grow your business!
1) Client or Customer-Centric Business
If you deal with a client or customer-centric business, CRM is for you. Why?- because you have to store customer's details, contact number, project details, proposal, quotes, and thousands of other information to make sure you have all the adequate information from a client.
Such detailed data helps you better understand your customers, their needs and wants, and thus bring them onboard with bare minimum efforts.
Apart from this, when you deal with hundreds or thousands of customers- it becomes tedious to manage their details and hard to retrieve the same when needed. And, here CRM makes magic by availing highlights super quick!


2) When Customer satisfaction is your priority!
Customer satisfaction is the priority of every Business; hence CRM is for every enterprise because you can not move without them. But this factor becomes exceptionally crucial, especially for those firms, where recurring business happens. Like, an automobile, telecom, restaurants, customer supports, and so!
If you have detailed information about the customer, you can better cater to them through an improved understanding of their problem.
Like, if you have to resolve an issue of a customer, you can get his/ her all details from the CRM, and propose them the most suitable solution!
Isn't this great from a customer's point of view?
3) Customer Retention
Customer Retention is one of the factors which govern the business growth of any firm. Also, it reduces the cost of acquiring a new client as well. Remember, the more you retain your customers, the better you build your reputation among them!
Many people now search for how strong customer-retention is of a firm- and based upon the results; they choose to do business!
Stronger the customer-retention, better the chances of getting new customers with minimum efforts!
From a study, just by mare improving your customer-retention rate, you can many-fold business- up to 80% to 85%. And, here CRM helps you retain a customer than old-fashioned ways!
4) Transparency
Nowadays, customers are more aware of their rights and which is good- because after all, they are the one who pays you, and that money runs your business.
With CRM, you can manage transparency, improve communication, do information sharing with your prospects or current clients quickly. And, show them the status of their ongoing discussion or project.
Transparency helps customers to trust you better and recommend you for others as well.
Apart from this, with transparency, you can better support clients and cater to their needs.
For instance, in case of any issue or emergency, when you not there to handle your clients, your team/ departments can help them. This move will undoubtedly upgrade your client's experience with you and your firm!


5) Increased Sales & Marketing Performance
With CRM, you better optimize your sales & marketing efforts which helps you close more deals and get more business, with the same shots.
When your data remains organized and channelized, it becomes easy to analyze the entire data, find loopholes, fix them, and thus plan the next strategy for the next big move!
CRM software or can say tools like CRM Sense offered by Sixth Sense IT Solutions, Indore, helps you identify your client's behavior and their needs! And, when you have accurate and detailed data- you can better plan your next move!
When CRM, like CRM Sense, you can grow your business with such detailed-analysis and valuable insights. With it, you can better know how well you are executing tasks, conducting meetings, sending proposals, managing clients, providing services, and thus helping self to take better decisions, and improve revenue in the long run!