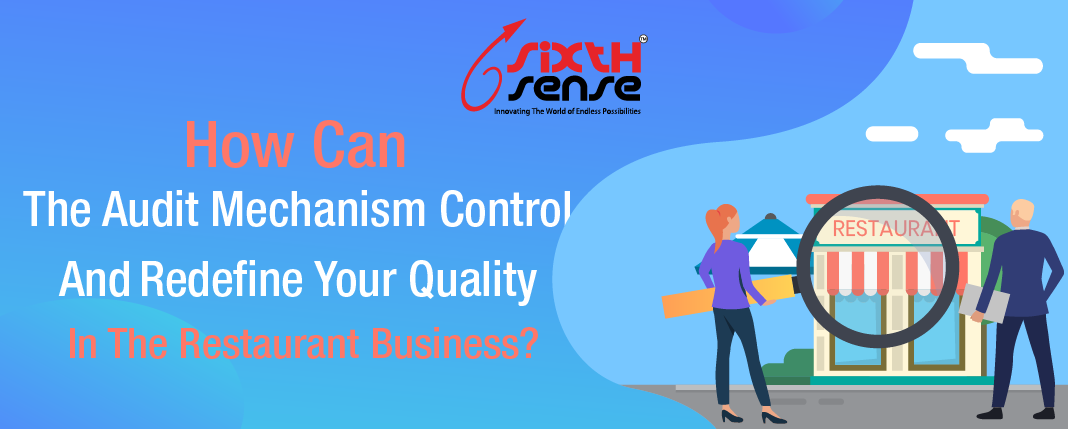 Audit plays a vital role in any organization, as it tells you about the loopholes and other flaws which actually can affect organizational fulfillment!
With an audit, you can channelize your all processes, SOPs, departs & their working. And, fix thus loopholes as well.
Apart from this, with regular audits, you can maintain the standards in your services and offerings to ensure customer satisfaction to its fullest.
Coming to restaurant operations, so, yes, there is a strong need for regular audit as well to make sure you maintain all the standards of your food safety and certification. Because- food is related to health, hence hygiene is the crucial element of restaurant & hospitality management!
In this blog, we are going to talk about how can an audit mechanism control and redefine your restaurant business & its operations?
1) Audit Controls the Money Flow
Yes, the statement is quite true!
With a regular and timely audit, you ensure a proper and controlled money flow in your restaurant.
A periodic check helps you identify expenses which are; legitimate, needful, fake-expenses, non-expensive operations, and enables you to run restaurants in the optimum performance. 
2) Audit Helps you Channelise SOPs and Redefine them if needed!
Undoubtedly, the audit helps you channelize SOPs and redefine them.
With an audit, you put a quality check on SOPs and define their working!
When you conduct an audit for a restaurant and its Standard Operational Procedures (SOPs)- you better understand which operation is performing well, up to the mark, and which needs an urgent upgrade!
Once, you have a clear picture of SOPs and statuses; you can better channel them for the maximum output.
3) Audit Helps you Grow Business
A periodic audit helps you grow your business by bringing issues in a notice earlier, thus avoiding future problems that might cost you higher if not noticed before.
Such, tiny yet super needful observation done with the help of audit, gives you an insight into current problems, and provide you with time to find the most suitable solution! Thus, enabling you to grow business simultaneously by avoiding the issue shortly.
4) Find Loopholes
With audits, you can find loopholes, which are affecting your restaurant performance and brining profit down.
Finding loopholes by regular audits not only helps you find causes of such gaps but also enables you to avoid them occurring in the future, and thus fix them with time!
Fixing loopholes saves a restaurant's resources as;
a) Time
b) Money, and 
c) Efforts
Thus, minimizing restaurant expenses and running costs!
5) Performance Analysis 
Regular Audits help you boost your restaurant performance by analyzing its past results and suggest you necessary upgrades for the future!
Performance Analysis through audits helps you shortlist procedures that are working either optimally or under-performing! Thus, guiding a clear path for restaurant success.
6) Client Satisfaction and Retention
From a study, if you can increase your customer retention rate by a few percentages, you can improve your revenue by more than 50%, or even more than that!
'Restaurant Audits' helps you collect customers' feedback and inputs which you can use for the betterment of your services, food quality, serving, offers, discounts, and rewards programs!
Such, detailed audit done for feedback/ reviews, helps you redefine restaurant procedures and upgrade standards, to match, up to the client satisfaction and retention!
7) Analyze the Market and its Trends
With an audit, you can analyze where are you in the market and what measures should you take to be at the top of the restaurant business.
Periodic audits help you analyze the current market trends, latest happenings, technologies, automation, tool, and system, and suggest the necessary changes you can make to redefine your SOPs!
And, there are plenty of other ways as well you can utilize to redefine the outcomes from a Restaurant Audit, and help your grow restaurant!
Here is the PRO TIP:
As we read, a restaurant audit can control and redefine quality in the restaurant business, so the question comes- how to do/ conduct a restaurant audit?
Well, to help you so, Sixth Sense IT Solutions has a creative and free mobile application solution to conduct a restaurant audit and give you the great insights of restaurant operations through examinations, checks, and periodic inspection!
With Restaurant Audit App from Restro Sense (a Restaurant Management System from Sixth Sense IT Solutions)- you can conduct a brilliant audit for your restaurant, find & fix loopholes, enhance restaurant performance, and control the resource drainage. Thus, optimizing the quality!