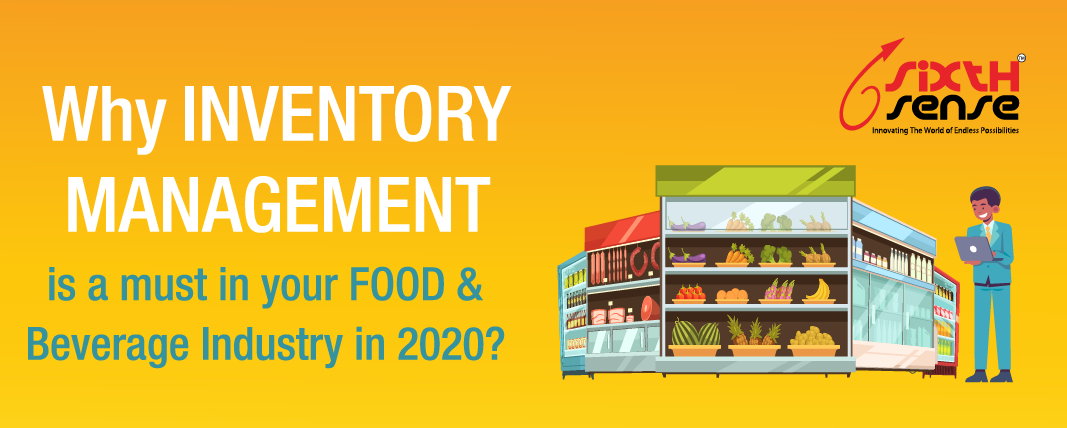 We are starting a new decade and this decade is going to be full of technologies, new inventions, and their application in daily life.
Because, now, we want things to be simple, fast, easy to operate, and usable. And, of course, affordable for everyone to either use or at least get benefited from it.
Hence, things are changing and getting smarter with the help of technologies because businesses are expanding, touching a new level, generating higher revenue, and of course, catering more clients with happiness!
In our series of blogs, this content will help you understand: Why INVENTORY MANAGEMENT is a must in your FOOD & Beverage Industry in 2020? And, how you can get benefited from this.
Let's go with the content now!
1. Inventory Management Helps You Keep Running Your Menu
Yes, with the inventory management, you can keep running your menus all the time!
How?
Well, if you have an adequate amount of stock stored with you, you can better serve whatever the dish is ordered from your menu. Hence, keep running your restaurant uninterrupted. Also, with the inventory management system, you ensure the most suitable and possible utilization of your inventory because you avoid: pilferage, wastage, overstocking, or stockout. And, thus helps your restaurant run all the time with all the menu items!
2. Customer Satisfaction & Retention
Customer satisfaction leads to customer retention. And, when you have a bunch of customers with you- you can run things quite smoothly! Inventory management helps you keep your customers satisfied because when you serve them with what they asked for- you win their hearts!
A balanced and entirely optimized inventory helps you serve food of your customer's choice at all time because sometimes, it does happen when poor-inventory lets you say NO to your customers. And, when a restaurant says NO to a particular dish, it affects customer's sentiments. Thus, a declining customer satisfaction graph!
Apart from this, when a customer knows that you have the item they are looking for- you naturally create a trust-channel for them to rely on you for further visits. And, this factor helps you improve customer satisfaction & retention!
3. Decrease Your Running Cost
A balanced inventory helps you decrease your running cost by a significant margin because it ensures the maximum possible utilization of materials! When you put multiple checks and alerts on the inventory, you make sure:
a) to avoid pilferage
b) utilize inventory to its fullest
c) get attentive with low stock alerts
d) avoid overstocking of materials
e) minimize inventory wastage. And, others!
Apart from this, with inventory management, you manage vendors quite efficiently as well. With vendor management, you ensure fresh, locally produced, affordable, and timely delivered raw materials. Thus, maximizing your stock life and utilization.
4. Keep a balance between the multiple outlets
With inventory management, you keep a balance between multiple outlets and avail them of the necessary materials when they need them. Also, with it, you stay supply-chain channelized, balanced, and stable in all outlets.
When one outlet runs out of the inventory, you can get system alerts, and you can have the necessary items available at that outlet! Thus ensures better menu preparation, customer satisfaction, and client retention.
So, these were the top 4 reasons to must have INVENTORY MANAGEMENT in your FOOD & Beverage Industry in 2020, and how this is going to affect your business outcomes as well.
Please let us know your feedback and if there is anything we can add- feel free to share!