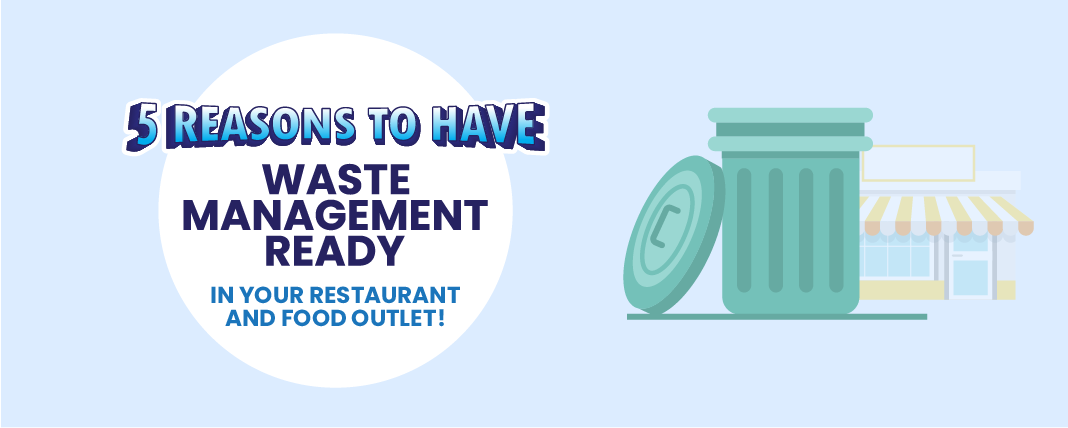 Restaurant Operations are some of the most dynamic business operations because they require a constant input of items, information, material, and other things!
For instance, if we talk about inventory management in a restaurant, then, it is the most critical and dynamic part of the restaurant business operation. Why?- because it has other processes associated with it as well. Like vendor finalization, stock management, low stock alert, etc.
Since inventory is dynamic, it has to manage sincerely to produce minimum waste!
When waste comes out regularly from your restaurant, it becomes your natural responsibility and duty to do systematic waste management. This step is not only to minimize its environmental impact but also to keep your restaurant clean and hygiene for customers!
In this blog, we are going to talk about 5 Reasons to have WASTE MANAGEMENT ready in your restaurant and food outlet!
1) Environment and Surrounding
The prominent reason for waste management is the protection of our beautiful environment.
When you pollute your surroundings, you automatically pollute your environment, and thus harms the precious health of people living nearby!
Improperly managed waste causes air, water, and soil pollution, thus making it difficult for humans, animals, birds and other species to live in such polluted conditions.
Apart from this, when you do not do proper waste management in your restaurant, it causes toxic gases to produce, which can only cause a severe impact on the atmosphere but can be dangerous for humans as well!
2) Reduces Production Costs
The majority of the food waste comes when you do not utilize your inventory to its fullest!
When you train your staff to optimize the inventory utilization, minimum waste generation, and prepare food with only required raw material; it automatically reduces your production cost.
And, when you reduce the production cost, it helps you grow your business followed by margins!
The better you use your inventory, the more you do waste management, and keep your restaurant premises hygiene!
This step in the long term brings profit to your restaurant!
3) Reduce Waste Generated
One more way to reduce the waste generated out of your restaurant is by restructuring your serving size in the menu!
For example, if you plan to go with the three serving sizes like medium, small, and large for your restaurant; then you want to ensure that only the required amount served and consumed entirely, and does not go to the dustbin!
Restructuring menu (size) also helps the customer save their bills and enjoy more dishes in your restaurant in the same amount!
Thus, overall you do waste management by minimizing waste generated!
4) Boost Restaurant Reputations
When you manage your restaurant waste professionally and with responsibility- you naturally get recognition from the customers and people around your restaurant.
If you have an excellent waste management system in your restaurant, you can then submit your entry for price, recognition, branding, and appreciation by those organizations who support and appreciate smart restaurant waste management!
Such recognition will not only boost your branding but will give you a reputation of a hygienic restaurant, thus increasing customer traffic in your food court!
5) Increase Safety
Safety is another must factor that pushes to have waste management in your restaurant.
Like shared above, when you dump waste without proper guidelines, it causes waste to decompose, produce germs, and react with other organic material. Thus, it causes toxic gases to produce!
If by any chance, these gases come into contact of your staff or customers; it can cause severe trouble for you!
Even people avoid going to a restaurant which stains, or have poor waste management- because it affects your restaurant hygiene! And, when you prepare food with poor cleanliness, it may cause a health problem to your customers like food poisoning, vomiting, acidity, etc. And, this is certainly not at all in favor of your restaurant's brand image!
Hence waste management is not only essential, but must have to keep your restaurant safe for staff, customers, and secure from germs!
6) It encourages recycling!
When you emphasis on waste management, you naturally push your restaurant staff to start recycling.
You can reduce waste by using stainless steel kitchen or other metal cooking and serving items than wooden or plastic.
It will not only reduce your running cost but will also help you generate minimum waste!
Apart from this, when you focus on recycling, you discover new ways to utilize the same material, and helping you save your environment by reducing waste generation!
As a restaurant manager or owner, you should always remember, the more you keep your restaurant hygiene and clean with smart waste management- the more you attract customers!
Apart from this, waste management saves your cost of promotion, branding, and PR.
Think differently; think waste management.
We hope you like the content, and if there is anything that you think we should know as well or had to add in the content, then please let us know!
Thank you for your time!